Obituary for Ashlie Lynn Linterman
Ashlie Lynn Linterman was born on October 10, 1995 and went home to the Lord on October 8, 2018.

Ashlie was a funny, free spirited girl. She had a big heart and could make friends with anyone in minutes. Ashlie could be described as the life of the party since she could turn any dull moment around with her silly dance and sense of humor. Her incredible sense of humor was her best quality. Many of you might be surprised by this, but Ashlie had a strong faith and bond with Christ. She believed that everything happens for a reason and that God would get her though anything.

Ashlie had a tattoo that was on the back of her shoulder that was a cross with three birds. The three birds represented the three sisters Ashlie, Kaylie, and Alyssa. Ashlie loved her siblings so much, and she would do anything for them. When she was a little girl she loved watching Power Puff Girls and believed that all little girls are made from sugar and spice and everything nice. Ashlie thought the three sisters were the amazing Power Puff Girls and saw herself as Bubbles.

Over the course of time Ashlie fell in love with three different animals. The first animal she was fascinated with was pigs. She loved pigs, because she thought they were cute and PINK! Pink was her favorite color at the time. The second animal was sloths. She felt that they were her spirit animal. It didn't matter what time of the day it was, Ashlie was always ready for nap time. Her third favorite animal that she was most passionate about was elephants. Elephants are symbols for love, patience, wisdom, and loyalty. Ashlie thought these creatures were amazing and that she should live her life as if she was an elephant.

As Ashlie grew older she found a special love for hockey. She loved visiting Disneyland and making slugs with her family. She also had a special love for cheese and absolutely loved the taste of pizza. Some of you may have not known this, but Ashlie's first job was at Pizza Hut, and her dad would send her a text message saying, "bring home pizza and wings, I'm watching the God Father". Ashlie's favorite holiday has always been Halloween, because it was a day to dress up and eat candy, not to mention her birthday was in her favorite month of October.

As more time passed Ashlie found her home away from home. This magical place she called her "second home" was Target. Target was the place where she could get her Starbucks, find the hottest hippie trends, get her special spicy sauce, and most importantly her eye brow kit. As many of you know Ashlie's eye brows always had to be on point, and she would always ask "are my eye brows ok"?

You could always find Ashlie taking selfies or watching her favorite tv show which was Grey's Anatomy. Her favorite character was Meredith Grey, and Ashlie would try and act the way she would. You could always find her posting different quotes on Facebook from Grey's Anatomy. Some of you might not have been privileged enough to meet the other side of Ashlie. Ms. Sha-nanana was Ashlie's inner rebel and our own personal firecracker.

Ashlie's life started off in Wenatchee, Washington. The place where she learned how to walk, say her first word, and enjoyed being surrounded by family. After some time, the family moved to Seattle where her two little brothers were born, she found her passion for hockey, learned how to drive, face a life changing moment, and was Kaylie's double date to a school dance. Life then lead the family to Gilbert, Arizona where she graduated from high school, fell in love with the heat, and found her life dream of traveling. About two years later she found her final home Virginia Beach where Ashlie and Alyssa fell in love with sunsets at the beach, learning the history of this country, and was blessed with the best gift of them all.

God gave Ashlie an amazing gift and blessed her with a precious baby boy. She named her son Milo Jayden Griffith. Ashlie came up with the name Milo because was she wanted to give him an everlasting and unique name. Jayden is from her dad and two brothers. Jay is the first part of her dad name and den is from spelling that both of her little brothers' Cayden and Brayden are spelled. Finally, Ashlie gave Milo the last name of her beloved family. Ashlie wanted the world for Milo. She wanted him to travel the world and see the places she has never seen before. She wanted Milo to be successful and to chase his dreams. Ashlie loved her son to the moon and back, and she will always be with him.

The family will receive friends at Hollomon-Brown Funeral Home, Princess Anne Chapel on Friday, Oct. 12, from 10 to 11 a.m. The funeral service will follow at 11 a.m. in the funeral home chapel.
To send flowers or a remembrance gift to the family of Ashlie Lynn Linterman, please visit our Tribute Store.
Previous Events
Visitation
Hollomon-Brown Funeral Home, Princess Anne Chapel
3445 Princess Anne Road
Virginia Beach, VA 23456
Service
Hollomon-Brown Funeral Home, Princess Anne Chapel
3445 Princess Anne Road
Virginia Beach, VA 23456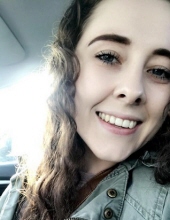 Thank you for sharing your
memory of Ashlie
Provide comfort by sending fresh
flowers from our local florist.
No thanks, please don't show me this again.